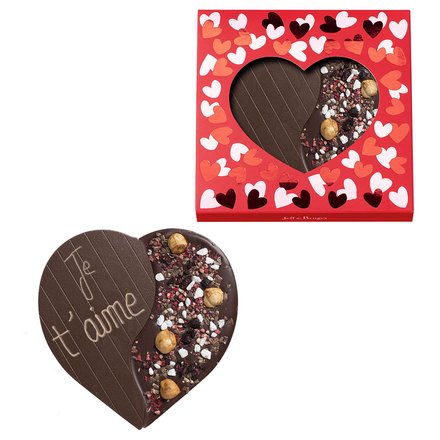 Duo Heart Dark Chocolate Plate
A touch of smooth dark chocolate studded with luscious shards, filled with creamy praline and finished with a love letter. This heart takes you on a t ...
Find out more
Pickup in-store
This product is available in 471 stores
Shipping
This item requires special delivery.
Duo Heart Dark Chocolate Plate - 90 g : Dark chocolate (cocoa mass with cocoa beans from Ecuador, sugar,
MILK
fat, cocoa butter, emulsifier:
SOY
lecithins), candied lemon peels 2% (lemon, glucose-fructose syrup, dextrose, sugar, acidifier: citric acid, preservatives: potassium sorbate, sulfur dioxide (
SULPHITES
)), salted caramelized
ALMONDS (ALMONDS
, sugar, salt), freeze dried raspberries, meringue 0,5% (sugar,
EGG
white, corn starch).
Dark chocolate: 60% minimum.

May contain traces of cereals with gluten, other tree nuts and sesame seeds.