Our values
Our commitment

We believe that making good chocolate comes from taking the right human and environmental approach.
An approach based on treating men, women and children fairly and on caring for soils and their perpetual cycles, to ensure they prosper for us and for future generations.
That's why we decided to become cacao growers.
The cacao beans we use for our couverture chocolate* come from our own plantations in Ecuador, to make sure that everything is done right from bean to bar. We tend lovingly to our chocolate throughout the transformation process to guarantee good taste and quality at the right price for you to enjoy with friends, safe in the knowledge that what you're eating is ethically produced.
Because by eating good chocolate, you're contributing to a sustainable future.
*Except where specified that cacao is sourced elsewhere.
The art of chocolate according to Jeff
in a nutshell
Sustainable chocolate

To us, it's all about getting the right balance between great taste, an affordable price, naturally sourced quality ingredients, treating people fairly and treading lightly on the Earth.
Well-made chocolate

The quality of our chocolate underpins everything we do. We're meticulous about the provenance and composition of our products. We develop our recipes with attention to detail and quality foremost in our minds, from naturally sourced ingredients and without hydrogenated vegetable oils, GMOs* or palm oil.
All our couverture chocolate is made with cacao beans from our own plantations in Ecuador** and guaranteed 100% pure cocoa butter. The high cocoa content ensures the best possible intensity: 35% cocoa for our milk chocolate and at least 60% cocoa for our dark chocolate. And we still keep the sugar content low, as more cocoa means less sugar.
It's in our factories that the know-how and passion of our master chocolatiers come into their own as they strive each day to bring you novel combinations of tastes and textures.
* Genetically Modified Organism
** Except where specified that cacao is sourced elsewhere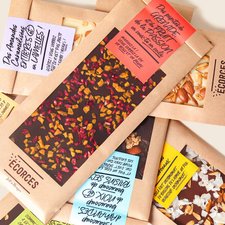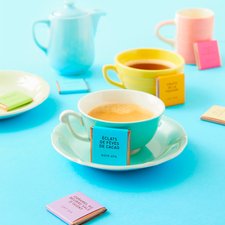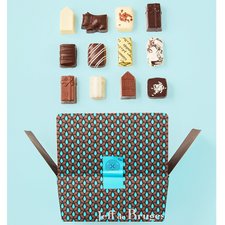 Reinventing chocolate everyday

To us, chocolate is a raw diamond waiting to be cut and dazzle us. It's thanks to our know-how as a chocolatier that we're able every day to bring you products you can relate to. Whether it's their taste, texture or design, our chocolates are just waiting for your tastebuds to really come to life.
Respectfully reinventing the codes of chocolate and perpetuating traditions with a zest of originality. Taking the liberty to revisit time-honoured recipes with a modern twist inspired by our desires.
We're constantly looking to reinvent ourselves and wow you, for the love of chocolate.
That's our firmly held belief, and that's why, every day, Jeff de Bruges' teams are there for you to discover and enter our world of chocolate. By communicating our passion and knowledge, we see ourselves as purveyors of flavour. Whether you're a novice or a connoisseur, whether you like chocolate every day or just every now and then, in choosing Jeff de Bruges you're sharing a refreshing taste for chocolate, in a cordial and convivial mood. With our chocolates, your pleasure is ours.
At Jeff de Bruges, our cacao plantations, chocolate factories and stores are fired by the same passion to give you an absolutely unique experience every time.
Our more than 470 stores in France are first and foremost local businesses proud of the special relationship we have forged with you. We ask you what you'd like and invite you to choose your chocolates one by one and compose a selection that suits your tastes. And we suggest gift ideas for all of those moments that make life worth living.