Jeff Club
How it works?
We tell you more about the Jeff Club!
I/ Currently

Throughout the year, the Jeff Club offers you an "offer of the moment": promotion, tasting, gourmet gift ... Fill in the conditions and the offer will be yours!

Halloween is coming! How about leaving with 2 "Witch's Eye" chocolates and 1 praline in pumpkin shape? Offer valid from October 21st to 31st from 18€ purchase.
II/ Everyday

...discounts* to temps you!

A(nother) good excuse to indulge in our chocolates. Simple and fast, no need for cards or apps!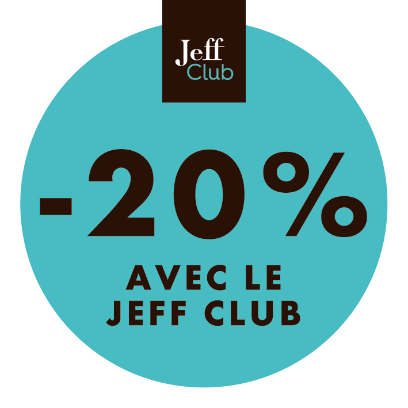 Fancy a small square on the sofa?
We offer you a 20% discount on our chocolate bars**.
Something to celebrate or just feel like giving yourself a treat?
Take advantage of a 20% discount on all our chocolate sweets.
Do you prefer your chocolate for breakfast or afternoon tea?
Whichever it is, get a 20% discount on our 250 g jars of chocolate spreads.

III/ Plus special offers to delight throughout the year

Do you like surprises?
Come to your store for private tastings and see what surprises we have lined up to reward your loyalty (with chocolate).
We look forward to seeing you soon in your Jeff de Bruges store.
**Offer on the item mentionned opposite and not valid on personalized shelves.
Offer applies to mainland France only and in the participating stores.