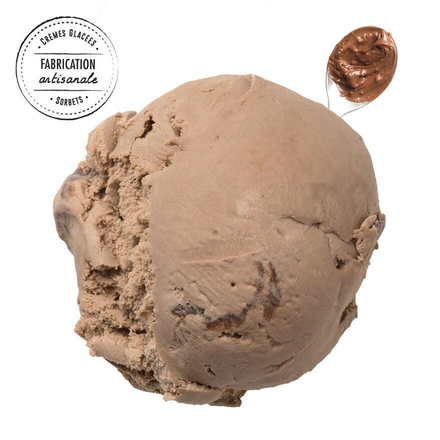 Spread Ice Cream
Fans of this iconic flavour love the creamy texture and hazelnut and cocoa taste with a chocolate swirl. Made without palm oil or artificial colours o ...
Find out more
Please select product features
Ingredients: HAZELNUTS cocoa 34,6%[sugar, no hydrogenated vegetable oils and fats oils (soybean and rapeseed, sunflowerand maize palm), HAZELNUTS 12%, skimmed MILK powder, fat reducedcocoa powder, emulsifier: sunflower lecithin, flavouring], reconstitutedskimmed MILK, water, hazelnuts cocoa 13,5% [sugar, vegetable oils(sunflower), HAZELNUTS 10%, skimmed MILK powder, cocoa powder,emulsifier: SOYA lecithin], fresh cream (MILK), sugar, LACTOSE(MILK), glucose syrup, MILK proteins, stabilisers: carob beangum, guar flour, emulsifier: mono & di glycerides of fatty acids.  
May contain gluten, eggs.
DO NOT REFREEZE A DEFROSTED PRODUCT

Allergens: see ingredients in CAPITAL and BOLD letters.