(= countItemResult =) item found
(= countItemResult =) items found
(= blockData.pagination.count =) items found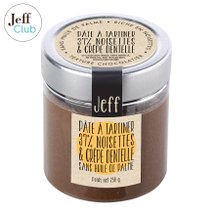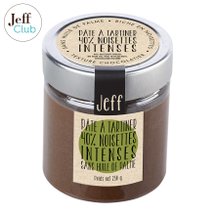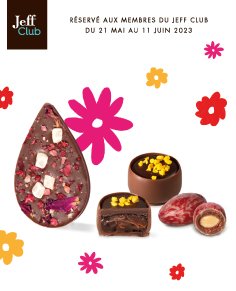 From 21th of May to 11th of June,
1 assortment of Mother's Dayoffered from 28 € of purchase.
*
See conditions
At Jeff de Bruges, we love to create recipes for you to discover simple pleasures and quality products. We also strive to cater to your sweet palate! And if there is one delicacy that we love to make, that is sweet spreads.
This childhood delicacy is a must-have snack. Don't wait to discover our delicious spread recipes catering to the sweet cravings of adults and children alike.
Spreads... A sweet delight for young and old
Sweet spreads are the ultimate snack-time indulgence! Some like to dig in with a spoon directly from the jar, and others take a little more time to spread it on a slice of lightly toasted bread. All in all, sweet spreads are delicious, however, you eat them!
There are many different recipes for spreads. However, at Jeff de Bruges, we wanted to create a spread that blends hazelnuts and chocolate. We are sure you won't be able to resist our unique recipes, their incomparable texture and their delicious flavour!
Our spread recipes can be enjoyed by young and old alike. Take a spoon or knife and spread this sweet treat over a waffle, on brioche or a slice of toast. The Jeff de Bruges spread is also ideal for your pancake evenings and makes a tasty addition to your desserts.
There is every reason to discover our spreads at Jeff de Bruges and as a member of the Jeff Club, you will receive a 20% discount on a 250 g jar of delight!
Discover our sweet spreads in a way you have never tasted before!
In the process of composing our spread recipes, we thought it necessary to accord a particular emphasis to hazelnuts! Discover the 40% intense hazelnut spread and enjoy a unique delight, like you've never tasted before. Would you like to add a bit of crunch to your delectable snack? Let yourself be seduced by the 37% hazelnut and crêpe dentelle spread! Hazelnut-rich spread including delightful crêpe dentelle bits is the perfect recipe and way to experience new flavours.
At Jeff de Bruges, we pay great attention to the products that we use in our recipes. We want to provide delicious products that are not harmful to your health or the planet. Our spreads are also free of palm oil!
Whether to give as a gift or keep to yourself, our sweet spreads will now be the tasty highlight of your day. If when you open the jar, you notice a separation of the ingredients, don't panic, just mix the spread and it will look new again!