Socially responsible and sustainable chocolate
Chocolatier & cacao grower

We believe that making good chocolate comes from taking the right human and environmental approach.
An approach based on treating men, women and children fairly and on caring for soils and their perpetual cycles, to ensure they prosper for us and for future generations.
That's why are cacao growers.
The cacao beans we use for our couverture chocolate* come from our own plantations in Ecuador, to make sure that everything is done right from bean to bar. We tend lovingly to our chocolate throughout the transformation process to guarantee good taste and quality at the right price for you to enjoy with friends, safe in the knowledge that what you're eating is ethically produced.
Because by eating good chocolate, you're contributing to a sustainable future.
*Except where specified that cacao is sourced elsewhere
GUIDED TOUR
in the heart of our plantations
6 vidéos to know everything

Plongez Immerse yourself in the heart of our plantations in Ecuador, and discover in 6 videos, all the stages of the cultivation of our cocoa. Respect the environment, respect what nature gives, show patience and be endowed with immense know-how ... From the birth of the cocoa tree to dried beans, cocoa cultivation is a long and rigorous process.
Episode 1: The birth of cocoa trees

From the nursery to the first pruning, giving birth to cocoa trees and then growing them requires real know-how.



Episode 2: The cocoa tree cycle

The flowering of the cocoa tree develops in cyclical stages and requires constant monitoring to ensure the quality of the cocoa.



Episode 3: The cocoa harvest

The gestures are precise, to carefully harvest the pods and collect the bunches of beans.



Episode 4: Fermentation and drying of cocoa

This is the most important and demanding step to reveal all the aromas of cocoa.



Episode 5 : A socially responsible plantation

A plantation, but also a place of life.
Episode 6 : A sustainable and respectful plantation
The proximity of the mountains, the natural sources of water, the plantation is punctuated by its environment.
OURS PLANTATIONS
Behind the scenes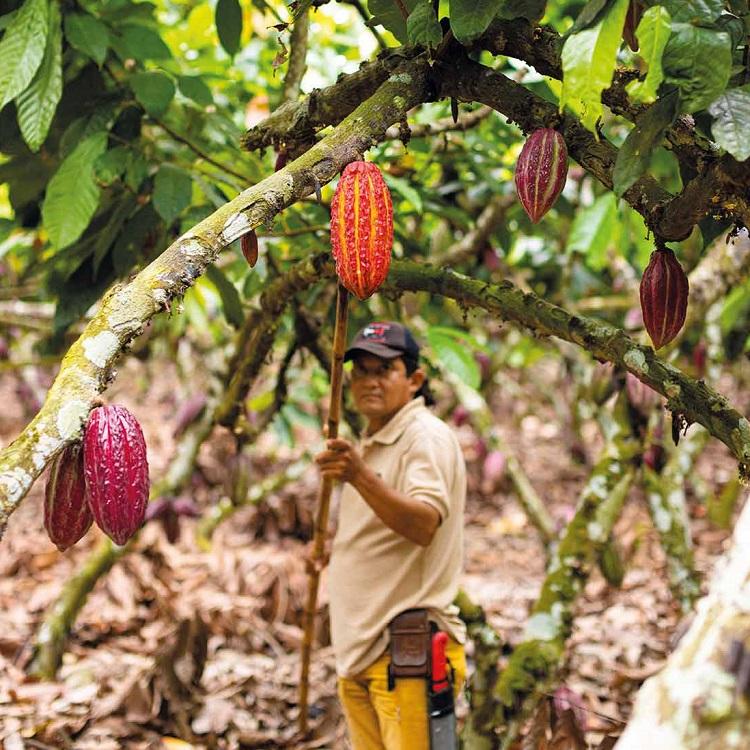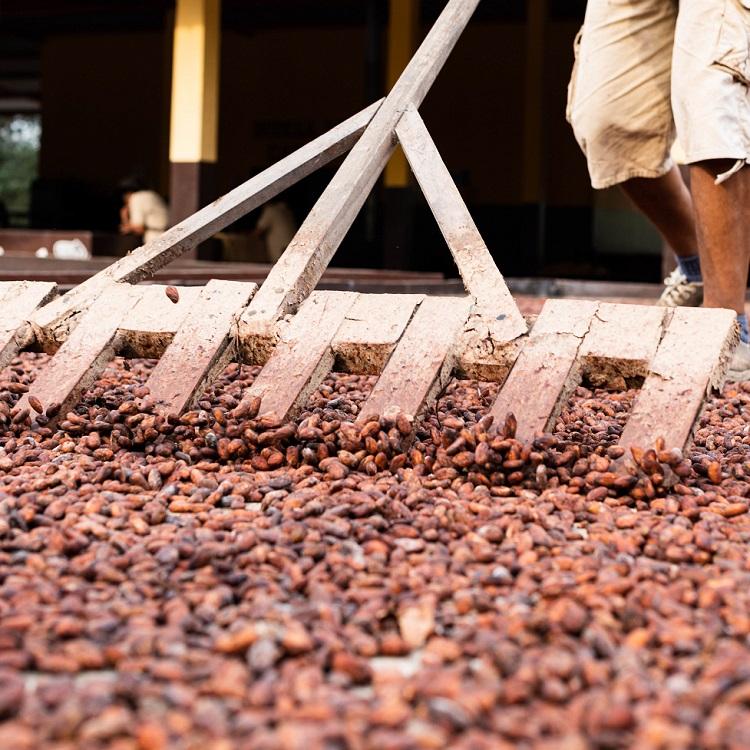 From plantation to store

Ours plantations

Our plantations are in the Guayaquil region of Ecuador, South America, where conditions are ideal for growing cacao trees. What makes the difference is the know-how of our planters, handed down from generation to generation to preserve the traditions of high-quality cocoa.
Planting
Our cacao trees are planted and grown following their natural cycle for a sustainably produced chocolate. What counts for you, counts for us, which is why we apply well-researched, sustainable farming practices that preserve biodiversity and tread lightly on Ecuador's exceptional terroir.
Caring
Pruning, watering and regular inspections are just some of the many tasks involved in caring for our trees to ensure the quality of our cocoa. We give as much attention to our plantations as we do to you!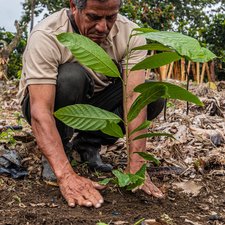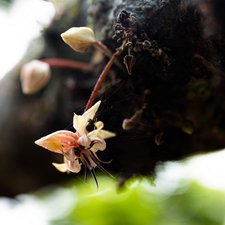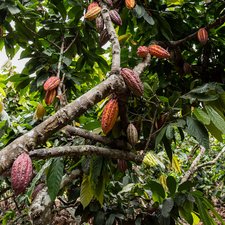 Harvesting
Harvesting of cacao pods is a key stage in the chocolate production process that demands extra special know-how and lots of patience. The viability and long-term health of the crop depend on farming the land sustainably. Here, we rely on Mother Nature to keep producing the finest cocoa.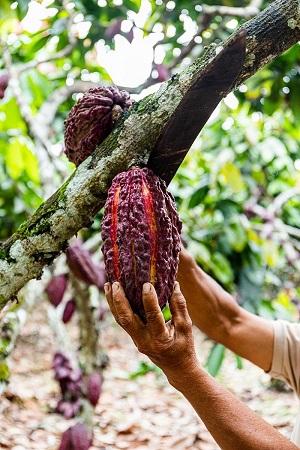 1,200

Mean number of cacao trees per hectare in our plantations

70

Varieties of fruit trees growing in our haciendas to encourage biodiversity

50

Mean number of beans inside a cacao pod

58

Number of cacao beans needed to make 100 grams of 70%-cocoa chocolate
Depodding
Depodding is the stage when cacao beans are extracted from their pods and is quite spectacular to see. Once emptied of their contents, pods are used as compost to enrich soils. And the land is worked to ensure good drainage and save water. Everything is designed to preserve natural resources.
Fermenting/drying
This is the crucial step where the cocoa develops its full flavour, aroma and intensity. Every day, the beans are turned and inspected to ensure that fermentation is good and even—truly a work of art!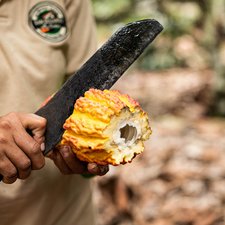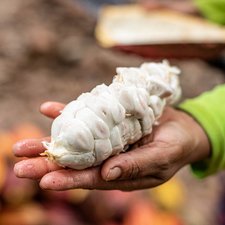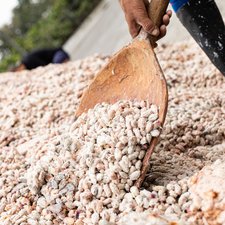 Inspecting
Each batch of beans is painstakingly inspected and identified to guarantee precise traceability throughout the process. For each batch, a sample of 50 beans is taken at random and cut open to test their organoleptic qualities. Here again, know-how is the key.
Bagging
Freshly dried beans are inspected by our experts, bagged and listed. About 210 days have passed between the first flowers on the trees and bagging of the beans—which just goes to show, once more, that patience is a virtue.


Shipping
Cacao beans are shipped to our factories and turned into cocoa mass, but there's still a long way to go before our chocolates take shape…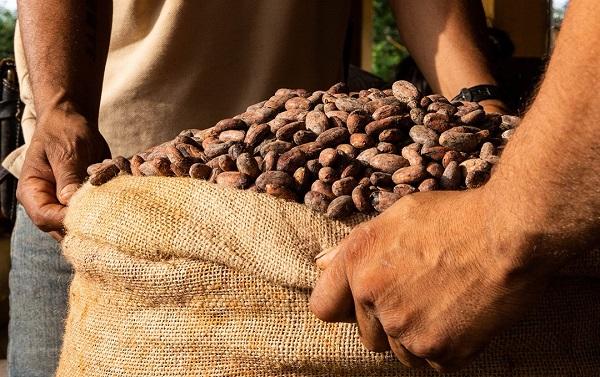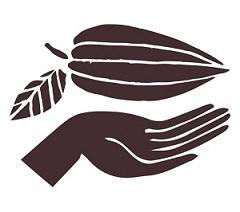 Our factories
Passionate about chocolate
TransformIing
In eight rigorously controlled steps, balancing between magic and craftsmanship, our master chocolatiers transform the cocoa mass into chocolate for your tastebuds' delight. Owning our own cacao plantation is a clear advantage for the quality of our couverture chocolate, while guaranteeing good working conditions and salaries for our employees and socially responsible, ethically produced chocolate for our customers. We think you'll agree this is a better way of doing things.
Creating
Our moulded or enrobed couverture chocolate coats the delectable and delicious creations of our master chocolatiers.
Initiating
Come and discover new tastes, smell the aromas and appreciate the textures. Now you know all the secrets behind that box of chocolates you couldn't resist buying!