Jeff de Bruges answers your questions
That suggests plenty of room for growth in the French market, as confirmed by the increasing number of Jeff de Bruges stores opened since the company was founded.
The chocolate market is traditionally dependent on two major festive periods of the year, Christmas and Easter.
Besides its exquisite taste, chocolate has a stack of other benefits: it's a known anti-depressant that reduces stress and is a source of vitality loaded with vitamins and minerals.
That's why Jeff de Bruges makes it in all shapes and sizes, from chocolate sweets and bars to moulds and gift compositions for all occasions.
*Source Alliance 7 – 2022
Our store concept
in a nutshell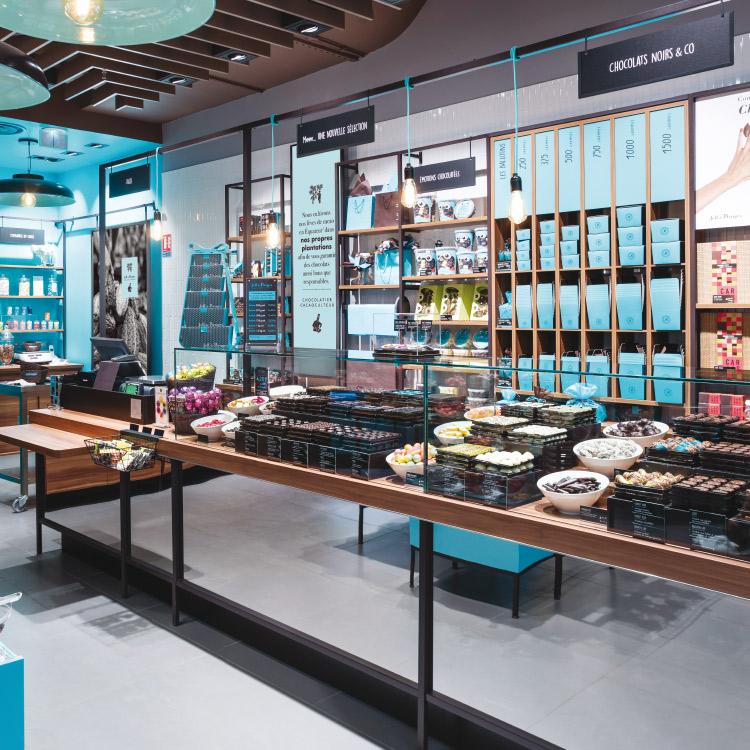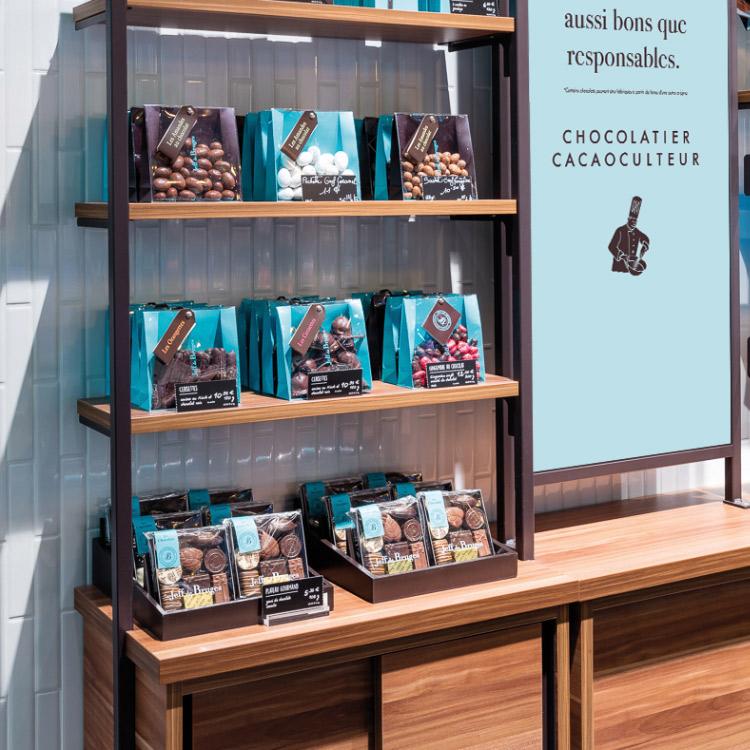 Creating a magical customer experience and showcasing our product offering, in line with the aesthetic codes surrounding chocolate today, is the foundation on which the Jeff de Bruges store concept is built. A concept designed to make it easy to find and buy what you want that creates a relaxed and elegant mood, reflecting our know-how and status as an affordable premium brand. So that chocolate isn't a luxury for the few, but rather a pleasure for all.

Store space
We recommend a store space of 30 to 40 sq.m. for a high-street store and 45 sq.m. for a shopping centre boutique. Both should have a storeroom of at least 25 sq.m.

Local and connected stores
Being an attentive local business also means offering innovative, made-to-measure services. Customers can now place their order on the Jeff de Bruges website with our click & collect service or have it delivered by courier to their door or the person of their choice.

We're the first network of chocolate boutiques in France to offer a click & collect and courier delivery service.
Everything you ever wanted to know about Jeff de Bruges
in a few questions
HOW LONG HAS THE JEFF DE BRUGES NETWORK BEEN OPERATING?
We opened our first chocolate store in 1986 and the brand was instantly a smash hit. In 2012, we inaugurated our first boutique in Paris on the prestigious Champs-Élysées, and two years later on the Rue de Rivoli. Currently, we had 522 stores in the Jeff de Bruges network, 472 of them in France.

WHERE DOES JEFF DE BRUGES STAND IN THE FRENCH CHOCOLATE MARKET?
We're the leading chocolate store franchise in France today. We've succeeded in opening 15 outlets a year and gaining significant market share. Our know-how is well-renowned and our chocolate boutiques are profitable.
We've been distinguished with the Gold Ribbon franchisor award and the Gold Brand award in the Store Refurbishment category. In 2017, the dynamism of our franchisees and the performance of the Jeff de Bruges concept were rewarded with the Silver Ribbon for our franchisees in Semécourt and Toul.
For the fourth year running, Jeff de Bruges received consumer recognition when it was voted Best Store Chain 2019-2020 in the Chocolate Boutique category, a distinction rewarding the quality of our products and customer experience in our stores.
Our know-how was also recognized through the award of the Best Franchise 2019 - 2020 label. This is a great source of pride for us.

WHAT OPPORTUNITIES ARE THERE FOR FUTURE JEFF DE BRUGES FRANCHISEES IN FRANCE?
As a Jeff de Bruges franchisee, there are two ways to accomplish your entrepreneurial project: either you can open a store in a town or shopping centre with strong potential where Jeff de Bruges isn't yet present; or you can take over an existing Jeff de Bruges store in a town where a franchisee is looking to sell their business. It all depends on what region you're looking at, and your inclinations and desires. Whichever you choose, we're sure you'll thrive in your new franchised business.

IS THE JEFF DE BRUGES FRANCHISE DEVELOPING ABROAD?
Yes, we have some 50 stores abroad and we've ramped up our international development in recent years.
We're present in Canada, Spain, Italy, Morocco, Bulgaria, Austria, Estonia, the Middle East and the Czech Republic. Jeff de Bruges is therefore the first French chocolate franchise to develop its business abroad.
DOES JEFF DE BRUGES SET UP FRANCHISES OR MASTER FRANCHISES ABROAD?
Both. It depends on the country's size, on how distribution is structured and also on the candidate's experience and motivation. We can discuss this point together in the light of your franchisee business plan.
HOW LONG DOES IT TAKE TO GET UP TO SPEED IF YOU'RE NEW TO THE CHOCOLATE BUSINESS?
Every Jeff de Bruges franchisee receives initial training for 6 weeks, taking in all aspects of the chocolate business, alternating between theory and hands-on experience: we look at product features, go-to-market techniques, sales, business management and marketing. For the practical part of your training, you'll be in one of our stores in direct contact with the clientele. There's no better way to learn the art of selling Jeff de Bruges chocolates.
We communicate our passion for local service and our customer relationship management know-how. We also offer training courses throughout the year and plenty of opportunities to meet and talk via our consultative committee, work commissions, and regional and national meetings.
We see continuous training as a strategic element of performance. So that each Jeff de Bruges franchisee can hone their skills and acquire new ones, we've set up our own Jeff de Bruges school. This school dedicated to chocolate enables us to offer made-to-measure training matching the needs of our network and franchisees.
We also provide technical and logistic support once you've opened your store and help you keep track of your business through visits and a telephone hot line. In short, we'll be there to back you up all of the way.

WHAT ADVANTAGES DOES THE JEFF DE BRUGES FRANCHISE AFFORD?
The full Jeff de Bruges concept including the store, its architecture and merchandising to ensure good recognition along with a comfortable, buzzing work environment.
The Jeff de Bruges franchise also gives you the guarantee of a recognized and well-liked brand backed by sales and marketing savvy all through the year to provide creativity and great prospects for growth. Consumers' requirements and buying habits change, and a brand's ability to adapt to them is of strategic importance.

ARE YOU A MEMBER OF THE FRENCH FRANCHISING FEDERATION (FFF)?
We joined in 1988 and our membership is fundamentally important as, besides their role guiding and informing future franchisees, FFF members are bound by the franchising code of ethics.
Our franchise agreements are also recognized by the Federation. They run for a 7-year term renewable for periods of 5 years and set out the rights and duties of each partner, notably what Jeff de Bruges is expected to provide to the franchisee. They also include an exclusive territory clause.

WHAT LEVEL OF INVESTMENT IS REQUIRED TO OPEN A JEFF DE BRUGES OUTLET?
The investment for going into business as a Jeff de Bruges franchisee varies according to the size of the store. You can expect €120,000 lease fee not included. For a shopping centre boutique, the fitting-out cost is between €140,000 and €190,000, lease or franchise fee not included.

WHAT MINIMUM DEPOSIT DO YOU REQUIRE FROM FRANCHISEE CANDIDATES?
To avoid the business getting weighed down by excessive loan repayments, we always ask franchisee candidates to have an initial deposit of 30% minimum of the total investment (lease fee, refurbishment, fitting out, etc.) with a minimum of €50,000, loans not included.

WHAT ARE THE AVERAGE SALES FIGURES FOR A JEFF DE BRUGES OUTLET?
Jeff's network average turnover is 480,000€. Nevertheless, a distinction needs to be done between a high street store and a shopping center store. Indeed, a shop located in a city center can reach 800,000€ when the turnover of a shopping mall store can achieve 1,6M€.

HOW PROFITABLE IS A STORE?
Several factors come into play here. First, margins vary between 50% and 55% for chocolate and dragees, more for ice cream, depending on the concept chosen. Second, a low level of stock avoids tying up too much cash.
Finally, quick turnover of stock, not having recourse to sales, extremely low spoilage and regular yearly revenue growth per square metre all maximize profitability. A well-run business can be expected to bring a return on investment within 5 to 7 years.

WHAT IS THE COST OF A JEFF DE BRUGES FRANCHISE?
The franchise fees depend on the size of the market and are determined during the unfolding of the project.
DO YOU HELP FRANCHISEES FIND THEIR FUTURE JEFF DE BRUGES OUTLET?
Of course, we choose the location of your outlet together, as it's fundamental to your success. It has to be a perfect fit for our products and target clientele. We look for premises in the busiest streets of towns and cities with a population of more than 20,000 and in shopping centres. As a member of the PROCOS urban planning and specialist business development federation, we have precise survey data for most French towns and shopping centres. Likewise, we help you if you're taking over an existing store.

DO YOU HAVE YOUR OWN JEFF DE BRUGES ARCHITECT?
Yes, of course, and our architect guarantees that our concept is consistently and uniformly applied across the network. Once our architect's draft fitting-out plans have been validated, they are given to your contractor so they can file a work or building permit application, under their responsibility.
Our architect makes sure your project matches specifications. Franchisees are free to choose the contractor that will do the work in their new store.

DO YOU HAVE A CUSTOMER LOYALTY SCHEME?
We created our Jeff Club in 2016 and today it's much more than a loyalty scheme. It's a fully-fledged customer relations programme that enables us to stay in touch with our customers and reward their loyalty to our brand. Customers like the Jeff Club's simplicity and it helps us to get to know them better, understand their preferences, purchase history and expectations—precious information we use to send them personalized messages and constantly enhance their chocolate experience.

HOW MUCH NATIONAL ADVERTISING DO YOU DO?
We run two advertising campaigns a year, at Christmas and Easter, two strategic sales periods for the chocolate business during which we advertise on TV and radio. After two years of constant growth, Jeff de Bruges is today the leading chocolate brand with an overall brand awareness rate of 94%*.
We also organize store communications operations with free promotional material for each franchisee, including catalogues, point-of-sale (POS) displays and posters. So we offer you full communications support.
*Survey by OpinionWay - June 2022

IS JEFF DE BRUGES ON SOCIAL MEDIA?
Our community is very active on Facebook and Instagram, communicating with us on a daily basis, commenting on our news, taking part in competitions and telling us what they think about our chocolates.
We also work regularly with influencers to raise our brand's social media profile outside our own community.

DO WE HAVE TO PAY ROYALTIES?
No, you won't be asked for royalties. We do ask for a contribution to our national advertising budget of 2.8% of sales (not including VAT), with a fixed minimum of €3,500 for your first year in business.

HELPING YOU GET STARTED
Want to know more about our brand, franchise store opening or takeover opportunities, or on how to go about becoming a franchisee? Our Business Development team is here to help. Write to us using the on-line form and we'll give your business project our closest attention.