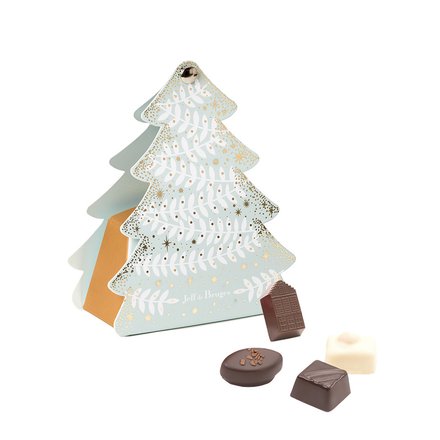 Small blue Christmas Tree
Give a festive air to your Christmas table, offer to everyone a chocolate note, please without reason…. It's the ideal little gift.
Find out more
Pickup in-store
This product is available in 470 stores
Shipping
Express courier
to your door on appointment
within 24 hours
Ingredients: sugar, cocoa mass (cocoa beans from Ecuador), whole MILK powder, cocoa butter, HAZELNUTS, caramel (glucose syrup, sweetened concentrated MILK (whole MILK, sugar), coconut oil, emulsifier: mono-diglycerides fatty acid (vegetable), salt, flavouring), cream (MILK), glucose-fructose syrup, stabilizer: rapeseed glycerol, concentrated butter (MILK), stabilizer: wheat and corn sorbitol, coconut oil, skimmed cocoa powder, ALMONDS, glucose syrup, sugar candi syrup, shea butter, concentrated MILK, dextrose, inverted sugar syrup, flavours, emulsifier: SOYA lecithins, sunflower oil, skimmed MILK, emulsifier: E471 (vegetable), salt, corn oil, caramel (caramelized sugar), meringue (sugar, EGG white, WHEAT starch), LACTOSE (MILK),WHEY (MILK),  enzyme: invertase, acidity corrector: citric acid. Decoration coulouring: ammonium caramel.
ALLERGENS: see ingredients in BOLD and CAPITAL letters. The recipes may contain traces ou peanuts, gluten, eggs, other nuts and sesame seeds.