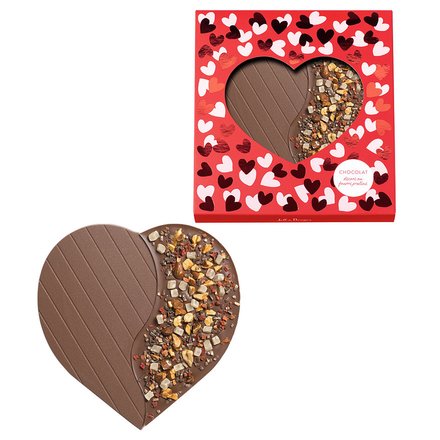 Milk Chocolate Duo Heart Plate Without Personalisation
A touch of smooth milk chocolate studded with luscious shards, filled with creamy praline and finished with a love letter. This heart takes you on a t ...
Find out more
Pickup in-store
This product is available in 472 stores
Shipping
This item requires special delivery.
Ingredients: milk chocolate 93% (sugar, cocoa butter, cocoa mass with cocoa beans from Ecuador, whole MILK powder, skimmed MILK powder, emulsifier: lecithin (SOYA), natural vanilla flavouring), caramelised almonds 2.7% (ALMONDS, sugar, glucose syrup, honey), apple bits 2.3% (sugar, apple juice, lemon pulp, OATS fibers, texturing: pectin, natural flavourings, acidity corrector: E332), bronze sprinkles 1% (sugar, cocoa mass, skimmed MILK powder, emulsifier: rapeseed oil, coating agent: shellac and arabic gum, colouring: iron oxides), freeze-dried strawberries 0.2%. Milk chocolate: cocoa solids 36% minimum - milk solids: 22% minimum. May contain eggs, other nuts, cereals with gluten and sesame seeds.