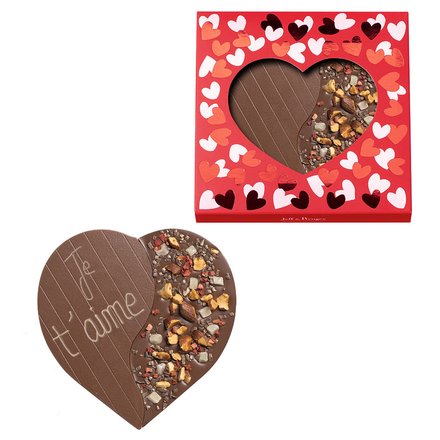 Duo Heart Milk Chocolate Plate
A touch of smooth milk chocolate studded with luscious shards, filled with creamy praline and finished with a love letter. This heart takes you on a t ...
Find out more
Pickup in-store
This product is available in 472 stores
Shipping
This item requires special delivery.
Ingrédients : chocolat au lait 93% (sucre, beurre de cacao, masse de cacao aux fèves de cacao d'Équateur, 
LAIT 
entier en poudre, 
LAIT 
écrémé en poudre, émulsifiant : lécithine 
(SOJA)
, arôme naturel de vanille), amandes
caramélisées 2,7% (
AMANDES
, sucre, sirop de glucose, miel), éclats de pommes 2,3% (sucre, jus de pomme, pulpe
de citron, fibres d'
AVOINE
, texturant : pectine, arômes naturels, correcteur d'acidité : E332), paillettes bronze 1%
(sucre, pâte de cacao, 
LAIT 
écrémé en poudre, émulsifiant : lécithine de colza, agent d'enrobage : shellac et gomme
arabique, colorants : oxydes de fer), fraises lyophilisées 0,2%. Chocolat au lait : cacao 36% minimum – lait : 22%
minimum. 
Peut contenir des traces d'œufs, d'autres fruits à coque, de céréales contenant du gluten et de graines de sésame. 
ICING
Ingredients: sugar, dehydrated EGG white, skimmed cocoa powder (if added to the mixture), acidity corrector : citric acid. May contain traces of soya, milk, gluten, nuts and sulphites.
The allergens are mentioned in BOLD and CAPITAL letters.