The dragées
Are you a fan of our chocolates? You're going to love our dragées!
Gifts of dragées are a delicious addition to all of life's special occasions.
As a gift when a new baby is born, at a baby shower, gender reveal party, christening, communion, as a wedding favour, table decoration or as a thoughtful gift for your guests, dragées are an incomparable treat whatever the occasion. And to turn your dragée gift into an unforgettable souvenir, our workshop customises all of your assortments to order!
Find below the new collection 2022 !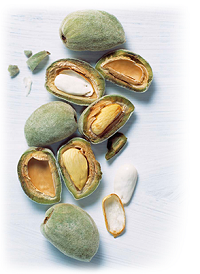 Almonds are full of symbolism!

They are believed not only to symbolise fertility because they take 9 months to ripen after the winter, but also to bring luck at all of life's special occasions. That is why this nut, "which symbolises life and resurrection", is placed in the centre of the dragée to bless babies at christenings with long lives and newly-weds with a happy marriage. Most importantly, they are a pure delight for guests to crunch into…

Manufacturing secrets
in the heart of our studio
At Jeff de Bruges, we know just how important it is to coat the almond in the finest layer of sugar possible to retain its full flavour and to give the dragée "just the right amount of crunch" with, by way of a signature taste, a hint of vanilla for a truly unique flavour.
A "Made in France" requirement!
Drawing on attentive know-how steeped in long-standing tradition, Jeff de Bruges dragées are made in France using carefully selected almonds from either Sicily (the famous Avola almonds) or Spain (the region of Lleida and Valencia); our chocolate palets are made from 70% dark chocolate and our little hearts from delicate milk chocolate.
More than a gift – a souvenir!
Jeff de Bruges gives you the option of printing straight onto the box, onto a label or onto the ribbon which closes and decorates your composition. An elegant and original way to customise your item and turn it into a souvenir that will forever symbolise your christening, communion or wedding ceremony.
Creation of the printing plate
We use a traditional printing technique: letterpress printing. This technique requires the specific and careful creation of a plate, which we compose letter by letter for each order. Then, ribbons, boxes or labels are printed depending on the exact quantity specified, and the plate is subsequently fully dismantled. The flat-rate fee for the composition, which is always done by hand, is €18:
these are referred to as "printing costs". These printing costs are free for any orders of €170 and over.
Our tips
for a perfect ceremony
Tip no.1: Mix & match flavours and use different colours
Why settle for a single flavour when you can have several? What about combining an almond dragée with a 70% dark chocolate palet or gianduja praline coated almonds? This will add an unexpected touch of indulgence to your composition.
Choose an array of colours by combining shades of complementary colours – it'll look both cheerful and stylish!
Tip no.2: Plan ahead
Do your research well in advance, take your time deciding and place your order with enough time for us to print and put together your items. For a stress-free, carefully prepared order, our workshop needs to be given 2 weeks' notice..
Tip no.3: Don't leave anyone out
As well as counting the number of guests, remember to include anyone who isn't able to come but to whom you would like to give some dragées… Don't forget the childminder and the godparents (for a christening), the best man and bridesmaids (for a wedding), colleagues, the officiating vicar or mayor, the grandparents … and YOURSELF!!
Tip no.4: Add a tasty … and decorative touch
Dragée gifts are usually handed out at the end of the reception; but if you also include some dragées with the refreshments, pairing them with the colours of your buffet table or seated table decoration, they will create the perfect, elegant… not to mention edible, backdrop!
What's more, this means your guests won't have to open their dragée gift to try them! In this way, a lot of them will be able to take their gift home as a souvenir - intact!
Tip no.5: Spare a thought for the younger guests
At the children's table, why not also think about a few colourful treats just the way they like them: little milk chocolate hearts, dark chocolate palets, marshmallow bears… then all you need are a few fun or see-through containers to put them in and that's the kids sorted!