(= countItemResult =) item found
(= countItemResult =) items found
(= blockData.pagination.count =) items found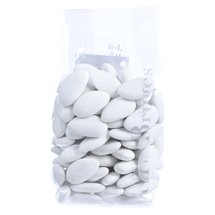 Do you like Jeff de Bruges chocolates? If you do, then you'll love our sugared almonds! These delicious treats made to share can be found at some of the most important events of our lives. Whether as a decoration, or a gift for guests, sugared almonds are a winner.
Discover our collection of sugared almonds and choose your favorite one from our catalogue!
Sugared almonds are a traditional favorite that we can't get enough of
We share sugared almonds during important events as they're a symbol of good luck.
The almonds found in each sweet were traditionally associated with fertility, as they take 9 months to ripen after winter. In some cultures, they are also referred to as a fruit that "never dies". What better way to wish a christened child or newly wedded couple a long and healthy life?
Above all sugared almonds are a delicacy that we love to share and savour! Jeff de Bruges chocolatiers carefully make these sweet treats with a thin layer of sugar to preserve the almond flavour and achieve the perfect crunch.
Because sugared almonds are also connected with colour and joy, they are available in a wide range of colours. Blue, lavender blue, Nattier's blue, lagoon green, tangerine orange, pink, ivory, silver and taupe beige... There are many to choose from!
Choose your box according to the decoration of your upcoming event. For a combination that is both as delectable and beautiful, you can select several flavours and colours of sugared almonds.
Which sugared almond are you tempted by?
Sugared almonds come in several varieties and the flavours and shapes vary according to the almond chosen.
Our catalogue features the Avola Élysée sugared almond which is considered by connoisseurs as one of the finest delicacies in the world! They are recognised by their flat shape and flowery, slightly bitter taste.
Are you looking for something a little sweeter? Then discover the Opera almond from Lleida in Spain. Indulge in this delicately flavoured sweet that contains a generously sized, slender-shaped almond, sure to please those with refined tastes.
Gourmets also appreciate the Gianduja sugared almond, which is recognisable by its crunchiness. The Gianduja almond is roasted, wrapped in hazelnut gianduja and then covered with a thin layer of sugar.
Sugared almonds are also all about enjoying delicious chocolate! Discover chocolate-coated almonds available in caramel, nougat, crêpe dentelle, speculoos, raspberry or, for those who like it a little stronger, 70% dark Ecuadorian beans chocolate.
By selecting your sugared almonds from Jeff de Bruges, you are also choosing to adhere to the "Made in France" standard. Our French-made sugared almonds are crafted from selectively sourced almonds, which we coat using a wealth of experience gained over many years.