(= countItemResult =) item found
(= countItemResult =) items found
(= blockData.pagination.count =) items found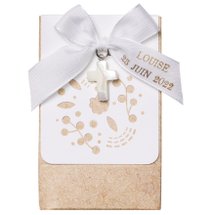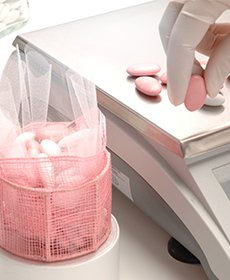 Our teams create your dragées items with care and attention.
They are homemade filled and customized within 10 days.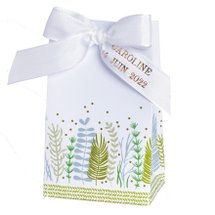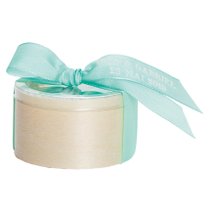 Delicate sugared almond sweets are a delicious tradition for celebrating christenings, communions and weddings. Representing happiness, the sugared almond can today be found in a vast range of flavours, shapes and colours.
The Jeff de Bruges teams are pleased to present their selection for you to choose your communion favours as well as the packaging for them to be carefully placed into, for your loved ones to keep as a souvenir of this special day.

Why should you give communion favours?
The sugared almond is a very old tradition that is generally associated with symbols of abundance, happiness and fertility. It is even associated with mythological symbols, such as the love story of Demophon and Phyllis. The sugared almond dates back to the 13th century when a solution was needed to preserve almonds during their transportation. An apothecary in France decided to coat the almonds with honey and sugar and so the first form of sugared almond was born!
For several centuries, however, sugared almonds remained a rare product that was eaten mainly by the upper class. In the 18th century, the modern sugared almond gradually began to take shape and this sweet began to appear on guests' tables at weddings, communions and christening celebrations. The sugared almond communion favour marks this important occasion by bringing hope and goodwill. The almond-shaped favour is a widespread symbol in the Christian religion, which is why it can be found at each religious ceremony.
Although the communion favour is traditionally composed of an almond covered in sugar, the Jeff de Bruges teams also offer you the chance to discover new flavours that are sure to please young and old alike.
Communion favours that are carefully made in our workshop
Choose the perfect package for your communion favours from our selection of organza bags, linen pouches or delicate, carefully decorated boxes and then take pleasure in selecting the sweets to go in them. All the communion favours we offer are prepared in our workshop with the greatest care. Our teams also fill and personalise each box by hand and deliver them to you within 10 days.
To delight your sweet-toothed guests and to mark this special event, the Jeff de Bruges teams have created a wide range of flavours and colours. You will of course find the essential sugared chocolate and almond communion favours but you may also be tempted by the Avola Élysée almond with its elegant taste, the Opéra almond with its sweet soft flavour or the Gianduja almond and its crunchiness. Those with a real sweet tooth will also love the caramel, nougat, crêpe dentelle, speculoos, raspberry or Ecuador cocoa communion versions.
After you'll need to choose the colour of your communion favours and our workshop has created a wide range of pastel colours that you can of course match with your personalised ballotin. 
How do you choose the colour of your communion favours?
Traditionally, there are specific colours of sugared almonds we tend to associate with important events in our lives. We usually choose white sugared almonds for communions which can be combined with gold or silver shades. White sugared almonds are a symbol of purity, which is why they are a popular choice for religious celebrations such as communions, christenings and weddings.
Nevertheless, it is possible to break away from these traditions by opting for more modern shades. We have chosen to offer you a very wide range of colours from our workshop, which you can select in line with the décor you have planned for the guests' tables. Opt for a natural look by combining white sugared almonds with lime green ones! However, if you want to create a softer décor, opt for shades of blue or pink, as well as yellow and ivory. You can make your choice together with your children. They may opt for brightly coloured sugared almonds, but also original shapes like hearts or our palets!
Choosing the container and personalising it for your communion favours.
The choice of container is also essential when it comes to preparing for the communion celebrations. For such a celebration, softness and elegance are the order of the day, with delicate linen or organdy sachets that recall the shape of the chaplain. Our catalogue of containers we have to offer includes other styles such as the Bohemian Box and the transparent Bubble surrounded by a beautifully decorative white disc.
When you choose your sugared almond favours and their packaging you can also personalise your selection. Choose from taffeta or satin ribbons in 18 beautiful colours ranging from tangerine orange to parma violet, ivory and lavender blue. You can harmonise the different colours and create a stunning finish by choosing different tones of one particular colour with the ribbon colour and that of the sugared almonds. This will look especially beautiful if you've chosen a transparent container.
Once you've chosen the container for your communion sugared almond favours, move on to the personalisation stage! When it comes to communions, in particular, you can add small cross-shaped accessories that you can hang from the ribbon. Our catalogue of boxes includes labels that can be printed in the shape of a dove or a disc. When you personalise the box, you can also add printed text to indicate the child's first name and the date of the communion. Once everyone has tasted these delicious sugared almonds they can be also kept as they provide an excellent souvenir of this important celebration.